Russian Translator C. Presma
French to Russian, English to Russian translator. Native Russian translator. Technical, business, website, medical, general… translation.
Qualified experienced freelance translator in Strasbourg, France.
This Russian Translator in Brief
I am a qualified and experienced native Russian freelance translator. I am based in Strasbourg and work mostly online. After earning a Master's degree in Professional Translation from the Institute of Translators, Interpreters and International Relations (ITIRI) in Strasbourg, France, I began working as a translator in 1999, initially as an internal employee and subsequently as a freelancer.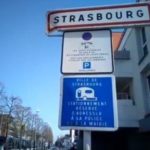 On this trilingual site, you can view my 2-minute video presentation in the "Video" tab. Primarily, I translate into my native language (French to Russian, English to Russian, Italian to Russian …). The translation directions are detailed in the "Languages" tab. In addition to the written translation, I propose Russian proofreading, transcription, voice-over, realisation of subtitles, localisation of Internet pages, compilation of glossaries as illustrated in the "Services" tab. The "Specialisation" tab lists my CAT tools and the translation domains in which I have the most experience. The "Examples" tab contains samples of my translations. The "Rates" tab contains the most recent detailed price list. Under the "Payment" tab, you will find order placement information. Through the "Contact" tab, you can place an order or request more information.